10 Spicy Chicken Ramen Recipes
You can't go wrong with chicken ramen. And spicy ramen is elite (sorry to those of you who can't handle the heat). So put them together and get spicy chicken ramen…incredible. Jokes aside, we've compiled 10 spicy chicken ramen recipes that range from just a touch of heat to eye-watering spicy. 
The spice in these recipes comes from various sources, including chili oil, sriracha, gochujang, fresh chilis, red chili flakes, curry paste, and paprika, and that's barely scratching the surface of all the possible ways to introduce heat to a dish.
Let's dive into spicy chicken ramen with this list of 10 recipes using Mike's Mighty Good ramen noodles. 
Starting off strong with basic spicy chicken ramen. The spicy comes from cayenne and sriracha, so if you want less heat add just a little sriracha, or go crazy and add a ton to turn up the heat.
The base is Mike's Mighty Good Fried Garlic Chicken ramen pillow pack, plus seasoned chicken, veggies, and a soft-boiled egg.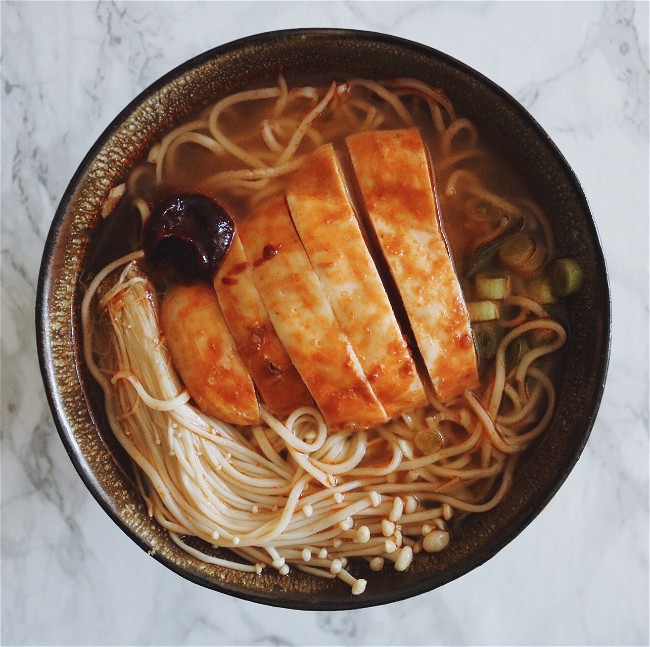 Now we introduce gochujang: a spicy Korean paste made from red chili peppers, fermented soybeans, and glutinous rice. It's a little sweet, a little spicy, and makes for a great chicken marinade.
Pair with enoki mushrooms, green onions, and a Kimchi Ramen Noodle Soup Pillow Pack and you have yourself a meal.
Similar to the previous recipe, this dish features chicken cooked with gochujang. This time, we're using a Savory Miso Ramen Pillow Pack, plus more gochujang in the broth to really hit that spicy pepper flavor home. 
Top with chicken slices, mushrooms, corn, green onions, sesame seeds, and a soft-boiled egg, plus an extra drizzle of gochujang if you love spice.
Now we're getting creative! If you've never tried meatballs in ramen, do it. These homemade spicy chicken meatballs are flavorful and juicy, coated in a tangy sriracha red pepper sauce balanced with a touch of sweetness.
We paired them with a Fried Garlic Chicken Ramen Pillow Pack, sliced red chilis, corn, a soft-boiled egg, and chili oil. This one has spice coming from all directions, so omit the chilis and chili oil if you don't want too much spice.
This one-pot Thai ramen has so much delicious flavor and just the right amount of spice. Two Mike's Mighty Good Chicken Ramen Cups are Thai-ified with coconut milk and Thai red curry paste. Chicken and veggies are cooked with garlic, ginger, and peanut butter. Throw in lime juice, spinach, and cilantro, plus peanuts and red chili flakes, and you've just made the spicy chicken ramen of your dreams. 
This recipe is for a spicy chicken ramen topping…one of our favorites, potstickers! They're crispy, full of spices, and make for a filling addition to a bowl of ramen.
If you've never made homemade potstickers before, all it takes is 3 steps: making the filling, stuffing the wrappers, and sauteing until golden brown and crispy. Then, you can add them to a cup of Mike's Mighty Good ramen and top with chili oil for some extra spice and flavor.
Fried chicken is the ultimate comfort food, so it only makes sense to eat it with ramen. This fried chicken is coated in gochujang to give it a good kick and a touch of sweetness. 
If you're getting bored of your basic instant ramen, this is a good one to take your bowl from boring to gourmet. Pair this scrumptious fried chicken with arugula, carrots, a soft-boiled egg, green onions, red chilies, all in a pack of Fried Garlic Chicken Ramen.
For all the lazy cooks out there, this spicy chicken bowl uses pre-cooked rotisserie chicken. You can also use leftover chicken from last night's dinner and toss in whatever leftover veggies you have on hand.
For our rendition, we added a ton of veggies and herbs: mushrooms, carrots, green onions, radish, cilantro, and jalapeno. A soft-boiled egg and a sprinkle of furikake bring it to the next level. Prepare your Fried Garlic Chicken instant ramen, add all your toppings, and enjoy.
We love bringing inspiration from different cultures into our ramen recipes, and Thai curry is one of our favs. Coconut curry with seasoned chicken meet our steamed ramen noodles.
This one is packed full of veggie flavor from stir fried vegetables and Mike's Mighty Good Vegetarian Vegetable Ramen Cup, so it's not too spicy compared to the other recipes in this list.
Another one of the more mild dishes in this list, our fried garlic chicken mushroom ramen has just a bit of kick from smoked paprika.
Wood ear mushrooms are such a treat, and they really make this chicken ramen dish shine. Add in whatever other toppings you'd like – we recommend some chili oil to turn this tame ramen bowl into spiiicy.
About Mike's Mighty Good Ramen
Here at Mike's Mighty Good, we do things differently. We strive to bring you the highest quality ramen you can find outside the ramen bar. Our instant noodles are streamed, not fried, using natural ingredients, so the texture is bouncy and the noodles taste fresher. Our broth is rich and flavorful yet contains less sodium than other brands. 
We have a variety of flavors from the classics like pork tonkotsu and chicken to vegan flavors including kimchi and miso. There's something for everyone!
Final Thoughts
Chicken ramen is comforting and always a safe bet, but nothing teases your tastebuds quite like spicy food. Spicy ingredients add that last layer of flavor that you might need to make your dish exciting.
In a pinch, chili paste, gochujang, and chili oil are awesome ingredients to have on hand to drizzle on top of any dish to make it spicy and more flavorful. Plus, play around with spices like paprika and red peppers to go even further. Heck, you can even throw in a sliced fresh chili.
Looking to stock up on ridiculously awesome instant ramen?
Shop all our craft ramen flavors on our site.