6 Creative Curry Ramen Recipes
Red curry, yellow curry, coconut curry, the list goes on…we love curry in all forms! Curry pastes and powders are such an easy way to get crazy flavor in your cooking because of how concentrated the flavor is. That's why curry and noodles are a perfect match: the noodles act as a vehicle for the delicious blend of spices in curry.
Here at Mike's Mighty Good, flavor is king. We have a variety of amazing ramen flavors, from spicy pork tonkotsu to vegetarian kimchi. We like to have fun with flavor, which is why we have tons of creative recipes using our ramen as a base and adding fun toppings and mix-ins.
Our craft ramen uses real ingredients, less sodium, and steamed organic noodles. Here's why Mike's craft ramen is a cut above the rest.
We've compiled a list of our best curry ramen recipes for you to enjoy when you're craving some comfort and a punch of exciting flavor. Without further ado, let's get into the recipes!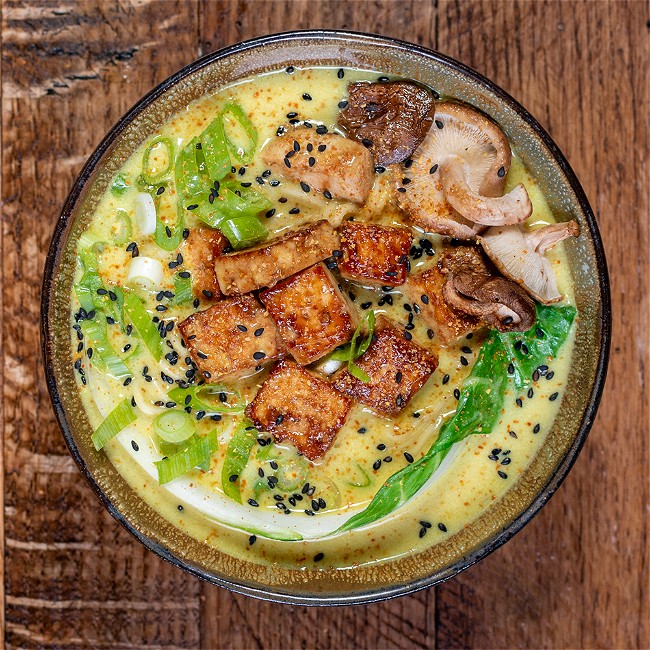 In this comforting recipe, we're creating a creamy broth for our ramen noodles using yellow curry, coconut milk, and our ramen soup base. 
Crispy golden tofu cubes, shiitake mushrooms, and bok choy soak up the flavor of the broth. Top with fresh green onions and enjoy this tasty vegan curry ramen. 
We used one of our vegan ramen flavors, vegetarian miso ramen, to bring some tasty plant-based flavor to the broth.
Put together some flavorful, earthy ingredients for a tasty comfort meal. We added mushrooms, a soft-boiled egg, cilantro, and green onions to our noodle and curry broth base.
This recipe is vegetarian, but you can easily make it whatever you want. Want some more protein? Add shrimp or chicken. Want to make it vegan-friendly? Omit the soft-boiled egg. It's easily customizable for whatever mood you're in!
For this recipe, we used our Vegetarian Vegetable ramen cup. The broth is rich and flavorful with a slight kick that's perfect as a base for this curry ramen. 
This Thai curry instant ramen bowl brings the full flavors of a Thai curry dish from the flavorful curry spices to the richness of the coconut curry stir fry mix, topped off with a hint of lime.
Curry and ramen are two of the best comfort foods. Eating them together is like getting a biiiig hug. Coconut curry, chicken, veggies, and fresh cilantro bring this bowl to life.
We used a cup of Mike's Mighty Good Vegetarian Vegetable Ramen for this recipe.
This recipe will satisfy ALL of your tastebuds. A little spice from the curry paste, a little sweetness from the coconut milk, and some fresh veggies and herbs accompany tasty shrimp.
For a veggie, we added zucchini, plus some sliced jalapeno for some heat. The shrimp is cooked in butter and garlic to infuse a rich and aromatic flavor. For more topping ideas, check out our guide here.
This recipe calls for our vegetarian vegetable ramen cup.  
Homemade dumplings may seem intimidating, but they're actually pretty simple to make. The best part about making dumplings is that you can choose to put whatever filling you want and it goes great with just about anything. 
For an explosion of flavor, we decided to pair tofu-filled dumplings with yellow curry ramen. Steamed bok choy, tofu dumplings, red chili slices, and green onions sit in a coconut yellow curry broth. Top with a drizzle of chili oil to complement the dumplings and add some heat.
This recipe is made using a cup of Mike's Mighty Good Vegetarian Vegetable Ramen, one of our vegan flavors.
This Thai red curry ramen is spicy, herbaceous, savory, and all around incredibly flavorful. We're bringing tasty Thai flavors to our organic craft ramen noodles.
Start with a pack of Mike's Mighty Good fried garlic chicken ramen. To make the sauce, combine garlic, green onions, basil leaves, ginger, red curry paste, chili flakes and MMG chicken soup base in a bowl. Pour hot oil over the top, adding this extra flavorful sauce to the ramen noodles.
Top with fresh cilantro and crushed peanuts for some texture and even more Thai flavor.
Final Thoughts
Curry is so versatile, you can add any proteins, veggies, and toppings you'd like. From plant-based to seafood and meat dishes, curry ramen is amazing no matter how you eat it. 
If you did some freestyle on your own dish, we'd love to see it! Tag us on Instagram or TikTok to show us your creation. 
Didn't find what you were looking for? Check out more of our tasty recipes here.